If you're an actor, director, producer, or casting director, I imagine you've got a fair handle on the acting process. The rest of you… well, I imagine you only know what you've seen on TV, which no doubt includes a long line of hopefuls clutching tightly to a rolled script, nervously pacing back and forth rehearsing their lines in earshot of dozens of other people who look almost exactly like them doing exactly the same thing.
That's… pretty close, actually. Just not so much pacing.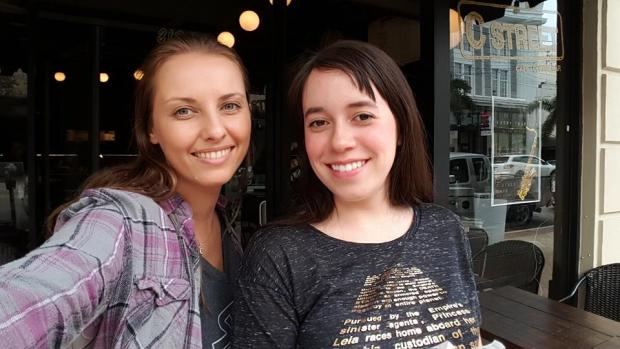 These two lovely ladies are Talina Adamo, our producer, and Amanda Alvarado, our esteemed Key PA. This was taken the day of our casting, right outside the coffee shop that the actors had to walk through to get to the hallway that would take them to the elevator that would take them to the floor where another hallway awaited. At the end of that very long hallway, there were the offices of Communications Consulting Group, who were graciously allowing us to commandeer their offices for a weekend.
For an actor who probably spent anywhere from 30 minutes to 3 hours to get to that room for a 5 minute audition, that hallways must have felt nerve-wracking indeed.
So here are two truths you should know about casting and filmmaking.
Bad acting is bad directing. It just is.
The purpose of the audition is to see how well you take direction.
So when an actor comes in (and we saw hundreds that weekend), the first time we see that actor's performance, what we're looking for is:
How good are the actor's instincts?
Are they bringing what we expected from the role based on the script we provided?
Are they bringing us something better than we expected?
That's the cold read. If we like what we've seen there or we get a hint that there's something else to be unlocked, I'll give you a few notes and ask you to come back at it again. This is the real test now. Can you take the feedback you've been given and incorporate it seconds later in such a way that transforms the performance into something that makes us move your headshot into the "maybe" pile?
A Faithful Companion received over 1200 audition requests from across the country. A good number of those came in the form of video submissions (including the one from Katherine Diaz!).
One of the perks we're proud to offer  is the DVD with exclusive commentary from the cast and crew, as well as bloopers, location scouting videos, and even the actors' casting tapes so you can see what we saw in the casting room. Check it out!
-Frank Fradella